Starting and running a business
Tips and tools to help you succeed
What is a business plan?
A business plan is really a process, initially defining where the business wishes to go, how it will get there and the resources it needs.
The process is summarised in this chart:
Moving on to tracking progress and perhaps amending the goals, the route and the resource needs as a result of experiences, success and failures, in other words what has been learnt.
It should:
Set the goals for the business
Clarify what is necessary for success
Communicate the management program
Identify the components of the business, from sales, marketing, finance to people and skills
Be shared with those who can influence and help achieve the goals
It should not:
Be a one off exercise
Be only a financial forecast
Writing a Business Plan
A business plan does not need to be a large document or a glossy highly polished one. It must simply paint a verbal picture of where the business is today, what it wishes to look like in the future, say an horizon of three to five years, and what needs to happen to get there.
Write in a language that implementers of the plan understand and can react to. If you can express your entire plan in two A4 pages then that is all that is necessary.
Remember that the plan needs to be referred to and updated regularly, a shorter document will make this easier.
If you are using the plan for, perhaps, a specific fund raising exercise with professional external funders such as Venture Capitalist or Business Angels, it may be necessary to write the plan in a more formal style, and certainly a detailed financial position would need to be set out.
Above all try not to make the writing and updating of the plan so personally burdensome that it does not get done, take it in your stride. After all, you are describing your business, what you want for it and how you will get it there. You would be able to do this at the drop of a hat in a discussion, so all you are doing is putting that discussion down on paper.
Contents of a Business Plan
It is widely accepted that there are headline areas that need to be addressed in a business plan:
The history of the business, and its status or situation today
The background and skills of the managers
Information about the market place
The business Strategy
How the business works – its operations
Forecasts of results
How the business is controlled
The importance of each of these areas will specific to the circumstances. A more detailed headings guide is given in the following downloadable Business Plan Headings Proforma , which is in Adobe PDF format.
In addition many useful books and guides to writing business plans exist, a good start may be your Bank many of whom provide helpful material (and it will probably be free).
Cash Flow Forecast
A cash flow forecast is simply a record of when you expect to take cash in and when you have to pay it out. It is important because it tells you if you will be paying out more than you will receive in a particular period and highlights any potential cash flow crisis. Knowing where a possible problem is looming allows for arrangements such as an overdraft or a short-term loan to be put place.
Cash flows from one period to the next can be very different, with inflows in one month turning into an outflow the following. A common issue is the timing of VAT payments to Revenue and Customs. It is usual for payments to be made quarterly, for VAT collected on a monthly basis, so expect a larger cash outflow in one month compared to the other two. It may be your business is cyclical, such as a bed and breakfast business in a summer holiday area. The income is concentrated into a few summer months but property maintenance and utility costs continue throughout the year. Good cash flow planning is required in this case
The diagram below graphically identifies the major cash flow items for most UK businesses.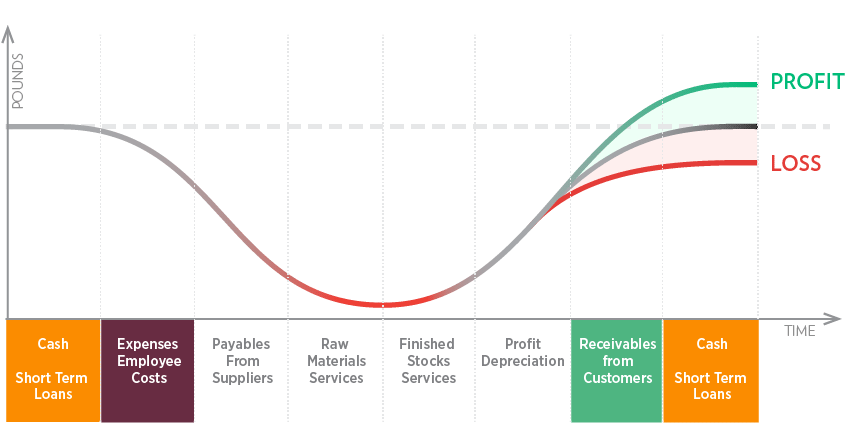 Inflow Items
For a business, sales receipts are the prime source of cash inflows. However additional cash may come from interest receipts, sales of assets, and a cash injection from the owners or the cash from the arrangement of a loan to the business.
Remember of course that if you offer credit terms to your customers, that your incoming cash flow will be delayed by the credit terms you offer. Some businesses in the UK have to cope with customers taking 60 to 90 days of credit. It is good practice to make it very clear to your customers the terms, on which you make your sales to them.
Outflow Items
In essence covers everything relating to business expenditures. Paying salaries and suppliers for goods and services are obvious ones. But there may be the need to buy assets for the business (machinery, computer equipment, furniture etc), make loan or lease repayments, and make interest payments on loans and pay over VAT and other taxes to Government.
Just as your customers may enjoy credit terms from you, then you may be able to agree credit terms for your purchases. Try whenever possible to negotiate favourable terms in advance rather then just accept your supplier's terms. Ensure you stick to the agreed terms, as there is now legislation in place to allow suppliers to recover costs and penalties when terms are not adhered to.
The following web site provides more information on the whole issue of late payments. payontime.co.uk
Cash Flow Forecast Layout
An initial pro-forma layout for a cash flow forecast is available in this downloadable
pdf file or as an Excel spreadsheet
Evaluating a Business Idea
Many people have an idea for a business, not many take that idea beyond the first thought. Even fewer attempt to evaluate the possibility of turning that idea into reality; and only a fraction of those actually get into the market with the idea
The diagram outlines an evaluation process: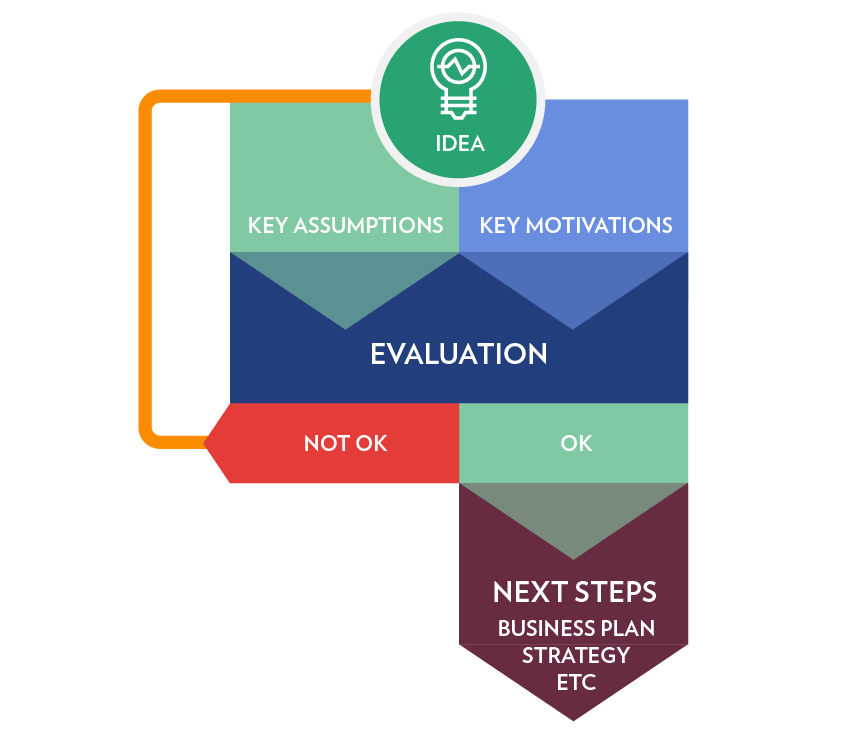 The reason, of course, why so few business ideas successfully see the light of day is that it is incredibly difficult to do. It requires commitment, dedication, skills, knowledge, strong support, doggedness and perhaps and element of luck
Whilst there are an infinite number of ways for someone to evaluate their business idea we offer below a process that may provide some structure to the activity and help get to a position where a decision to proceed to the next stage can be made
With the evaluation of any business ideas there are initially two very important considerations.
What is your motivation for getting into business for yourself and;
What are the key assumptions that must underpin the evaluation of your business idea
A misunderstanding of either of these potentially leads to a business failure when you start or the shelving of a perfectly good idea prematurely.
Key Motivations
It is important to understand why you would want to get into business. A broad range of factors may be involved from income and wealth generation through to life style issues or even social conscious. It may be that you have a very strong entrepreneur streak in you. There many ways you can ensure that you have a good handle on what is important for you.
However the downloadable tool available here attempts to pull together where your prime motivations are centred. The tool asks you to score a series of statements and then provides the opportunity for some personal reflective analysis in a structured way. It is nothing sophisticated or unique just some structured thinking, it is in Adobe PDF format. Motivation for Business Self Assessment Tool
A wise follow up to this self-assessment is to check the outcome with family members, colleagues or friends, people who know you well. Do they agree with your self-assessment? Are there are significant differences in view? If so check the assessment; have you been honest in your answers?
Key Assumptions
The assumptions you make at this early stage of evaluating a business idea are most important. They will largely determine whether the idea goes forward or not. In practice working with your assumptions is an iterative process

Make an initial assumption; this will be based upon a mixture of research, prior knowledge and perhaps judgement. It is good practice to note the sources and any relevant parameters and links. For example making an assumption on sales growth rates, will amongst other things, be related to general economic growth as expressed by GDP, this in turn will be related to interest rates and general economic wellbeing and so you may ask whilst the impact of my assumption is good whilst the GDP is growing strongly what will be the impact if it slows down?
Feed your assumptions into your evaluation process and review the outcome. Does it feel justifiable? Remember it is not a definitive outcome it is totally related to your assumptions, don't kid yourself. Still feel weak? Seek corroborating data, do additional research and revise and refine your assumptions and re-evaluate. Keep going round the loop and hone your assumptions and justifications for your evaluations. Making assumptions is not a once off process but should be continuous as your business idea moves to implementation and into growth. Regularly look at previous assumptions and actual outcomes, where there mistakes? What can be learnt? Are there new sources of information or wisdom
Types of Assumptions
The key assumptions for evaluating a business idea can be large numerous and varied and unique to the type of business or industry your business idea relates to. However some basic headings are common
Assumptions you will make that will be evaluated in a model of some sort:
Market size and growth
Customers and why they buy
How quickly will customers pay you
How will you tell your customers about your product or service
How will you sell your product or service
Price levels for your product or service
Marketing and promotional plans and costs
Do you need premises, where will they be?
Sources of supply for incoming goods and services and their costs
How quickly you need to pay suppliers
Investments necessary and their financing
Numbers of people and the type of skills necessary
Technology and equipment
Controlling and assuring quality
Sources of finance, interest rates and exchange rates
Issues of Intellectual property
Assumptions you will make that inform your strategy:
Competitors, who they are how will they react to your entry into the industry
What is the product or service uniqueness or strength, how is it different from the rest?
The effect other external Influences such as Government or changing technology could have
What is and could happen in the general economic environment.
What is and could happen to legislation that could impact your industry.
Are there sociological or ecological trends and influences that could have an impact on the industry or your product or service?
Risk evaluation
Some tools relevant to setting and evaluating strategy are available elsewhere in the ESA under Strategic Planning.
Strategic Plans
Strategy is a well-used word. Strategic plans are regularly referred to in business literature. Definitions abound and books, guides and advice are available from a vast number of sources, a search on the Internet (UK sites) will offer over 1.5 million site references. We invite you to do as much reading and study as you find convenient, however in this section we are simply providing some tools to get you started.
Starting from asking the question about what is the purpose if a strategic plan, we offer here are some basic tools to provide some input to developing a business strategic plan
What is the Point of a Strategic Plan?
A strategic plan should highlight where a business is currently positioned, describe where is wants to be and importantly identify the initiatives and actions necessary to get it there.
The bulk of the planning activity will be about gathering information and insights into such things as:
What impact your product or service is having in the market
How competitors behave and respond
How your business capabilities stack up
Understanding what particular opportunities and threats exist to your business
What more indirect or longer term influences may impact your industry or market area
The key point is that no enterprise (or none that we know of) is isolated from the rest of the world, and that strategy is about determining what will give a competitive advantage to your enterprise within an interactive environment.
The environment external to your enterprise consists of many elements, any of which could have an impact on your business or the industry you operate in. Often overlooked by smaller enterprises are the potential impacts both positive and negative that events more remote from the particular industry can have. Examples could be a change of Government, new legislation or technological development. There are many examples of companies or industries caught offside by these influences.
PESTLE Tool
A useful tool to use is the "PESTLE" analysis. PESTLE stands for the following factors
Political
Economic
Sociological
Technological
Legal
Ecological
The tool invites you to collect information and reflect upon whether any of these factors have a development coming towards you that will have an impact. There are many versions of this tool but you can download our version of the tool here.
Customer Needs Tool
One of the critical influences on your enterprises is of course your customers. Knowing their needs and the degree to which you fulfil them and the degree to which your competitors fulfil them more or less completely will determine the success of your business. Doing those things, within your resource capacity, which maximise the satisfaction your customers feel using your product or service is a vital part of the strategic plan.
The tool available here provides a structure to investigate these issues.
Competitor Review Tool
Competitors exist. You can either chase them or make them chase you. Having a good understanding of just who your competitors are, what their strategic goals are and how they are likely to react to your strategic initiatives is an important input to any strategic plan.
Investment in collecting information about your competitors and keeping it updated usually pays dividends particularly if you can adapt your strategic plan to deal with what they are doing, or find a unique attribute to your product or service which separates you from them
There are many sources of information:
Local newspapers
Trade Press
Credit reports
Market reports
Trade associations
Government agencies
Job Adverts
Industry rumour
Suppliers
Customers
Make sure that you apply a critical review to any piece of intelligence and just don't accept it at face value.
The tool available here provides a structure to investigate these issues.
SWOT Tool
SWOT is a commonly used tool in strategic planning. SWOT stands for:
Strengths
Weaknesses
Opportunities
Threats
Usually the sources of strengths and weaknesses relate to the internal capabilities of the enterprise often in comparison with competitors.
Opportunities and Threats derive from what is happening outside of the enterprise, often informed by PESTLE and Customers needs.
This tool helps to draw together the threads of the strategic position of the enterprise. More fundamentally the tool asks what initiatives or actions you are going to take to reinforce or improve this position; this is your STRATEGIC PLAN.
You can write many words if you wish, but in essence knowing the actions you need to take and doing them will deliver your strategic plan.

LATEST NEWS
August 2023
Operations
The importance of budgeting
Are you a small business or charity? Discover why you need a budget to thrive and make lasting change. Learn the essentials now!
Updated August 2023
Charity
Receipts & payments vs accrual accounting
Charities with a gross income below £250,000 and who are not registered as a company have the option of preparing receipts and payments accounts, as long as their governing document does not require their charity's annual accounts to be prepared as accruals accounts.
Updated August 2023
Payroll
Simplify employee cost allocation
Employee cost allocation is the process of distributing staff costs across various aspects of a business. This helps in understanding how employees are used in different projects, allowing for accurate budgeting, enabling full costing for projects and better management control.